First you might have noticed that I changed some labels... I apparently can't count. What I thought was number 11 on the pregnancy scale is actually number 12. So I changed the label and then thought to myself god I'm an idiot. However in my defense once you've hit double digits it tends to be a little difficult to keep track of things or at least keep things straight. That and 11 sounded a bit better than 12, however I then thought better of it and decided no this is number 12 and we'll be okay with number 12. Besides it's a nice round number.
I know I've been remiss in putting up pictures lately. Partly due to lack of time and dial up is so slow. However I am too cheap to spend the money on whatever the faster service is out in the boonies that I live in.
So... without further ado I give you Ernie - please ignore the mess on the floor. This is Ernie in his bed. He pulled the green blanket down to be in his bed and then proceeded to fluff it up so that it was his pillow. Yes - he's a princess. Which if I get the opportunity I will show you just how much of a princess he is as he sleeps in Lola's "pink princess bed" yes the bed actually has a crown on the center of the pillow and it says princess. Ernie doesn't care he's all about comfort and even though he doesn't fit in it he loves the thing.
Dino
this was for you ;)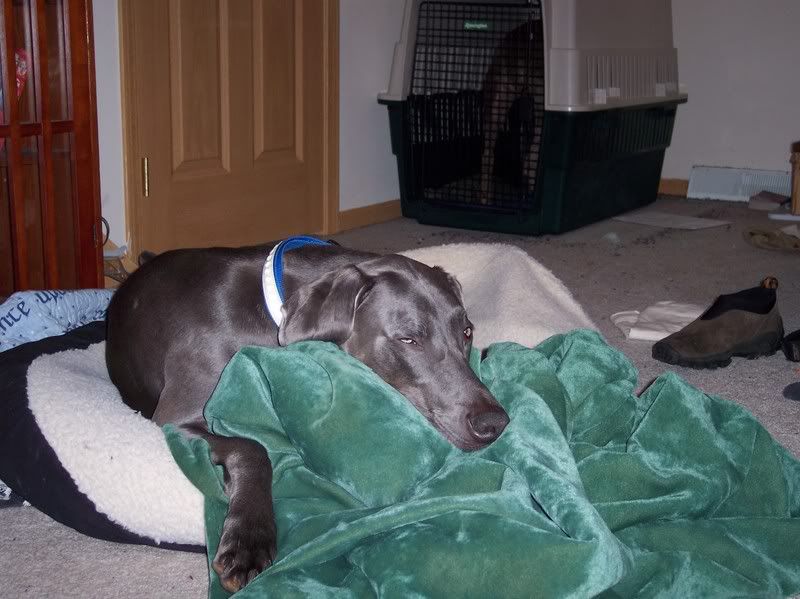 The next photo is of the infamous shower cleaners. One of the things with having 6 dogs and having an Ernie well you run out of water in the water dish quite frequently. Chance decided long ago that he preferred fresh water rather than water from a bowl so everyone eventually learned that the shower was the preferred drinking area. It also means that we don't have to deal with Ernie and the puppies slopping and dripping water all over the place. They don't clean the shower, but for some odd reason every single one of them would rather drink water out of the shower than out of a bowl. So the water is always cold and they get their fill whenever we go into the bathroom. This picture is of the 3 hoodlums - Ernie, Pepper and Blue are drinking... a more comical picture will occur soon - of the puppies and Lola drinking - getting those 3 on camera is a big effort. Actually getting a picture of the puppies not in motion is quite teh challenge.
So enjoy my babies... I'll post some of the other yahoos soon I promise.