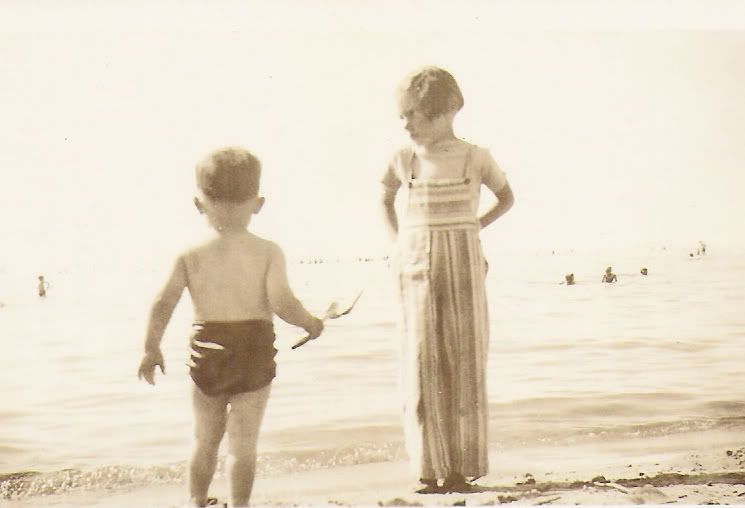 There's a line from Grey's Anatomy where Christina says "There's a club. The Dead Dads Club and you can't be a member until you're a member." Isn't that the truth. It seems as if this year there's been quite a few new members and for that I am sorry. It's not that you aren't lonely in the club, but truthfully you'd rather be lonely than have others join. Because being a member sucks - especially if you have a good relationship with your dad. I know there are a few who read that know what I'm talking about... and I am so sad that they had to join. If I could have vetoed membership I would.
March 12, 2007 at 6:40 pm will be the 3rd anniversary of my father's death. I just spent about an hour talking with my mom... she started crying and said "I so wish Sam was here." Isn't that the truth... we all do. D, myself, my mom... and a number of others wish that Dad was here. Generally I talk about that day - this year I want to do something a bit different. Give you a glimpse of what my Dad was truly like. Why I miss him so much and why I wish that he was still here every single day.
First let me preface by saying - I'm one of the lucky ones. I was given more time and fortunately we didn't waste that time. Our relationship was full, but it was not full of regrets. Dad was diagnosed with oat cell carcinoma located at the head of the pancreas, the common bile duct, a tumor on the liver as well and was given a 25-50/50 shot at living back in 1989. I was 11 at the time. We went to the mayo clinic and also then on to U of M for cancer treatment. After a few rounds of chemo and radiation he was pronounced in remission and we knew just how lucky we were as two others had been diagnosed with the same type of cancer however theirs was located in their lungs and both died within weeks of their diagnosis. I just did a search and found 14 months as the amount of time for survival on average... my dad had 15 years. 15 years... amazing huh. I may have to get a hold of his medical records to reconfirm that it was indeed oat cell carcinoma - however that was the only name I remember growing up. He had frequent checks to watch for recurrence and we sweated bullets a few times when he went from having a CT to having an MRI because the previous one looked different than the current one. Dad never once let his cancer slow him down - in fact he got yelled at quite a bit as during the time he was in treatment - when you're supposed to be "careful" and not use razors - he started woodworking and whittling and well he used an exacto knife to do those things. My mother threw a fit. However it made him happy. My dad enjoyed woodworking and downstairs in the basement at my mom's house is a chest that he was trying to finish for me... it still isn't finished. I may have my mom ask a friend of my dad's to finish it.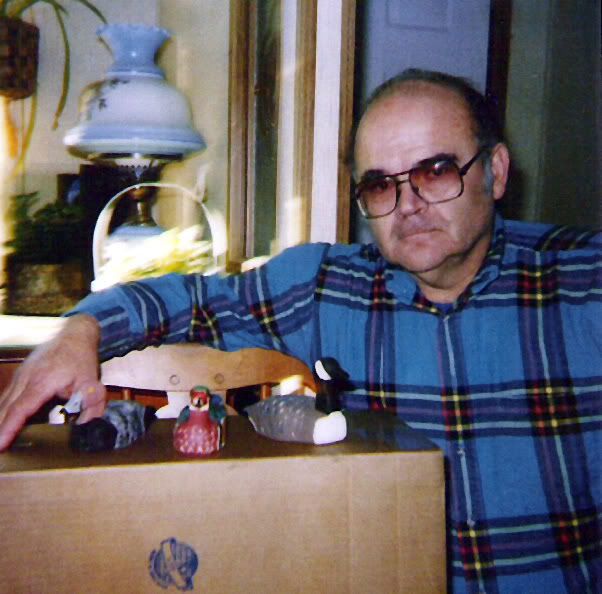 My dad was over the moon thrilled when I showed up... he could have cared less whether I was a boy or girl, just that I was here and I was healthy. Over the years he'd repeat those statements. My Dad made it very clear growing up that there was nothing that I couldn't do. Sometimes that has probably irritated my husband to no end, but I doubt I've ever backed down from a challenge. It cracks me up to watch my father in law be amazed at the things I'll do. Whether it be work on a building project or home improvement project, hunt, shoot, etc he apparently grew up with a different philosophy and so dealing with me causes some panic on his part. Oh the beard was for a contest - he didn't win, but he enjoyed growing it. I used to hate when he would give me kisses and be all scruffy. He rarely had facial hair so this is one of the few pictures of him with facial hair.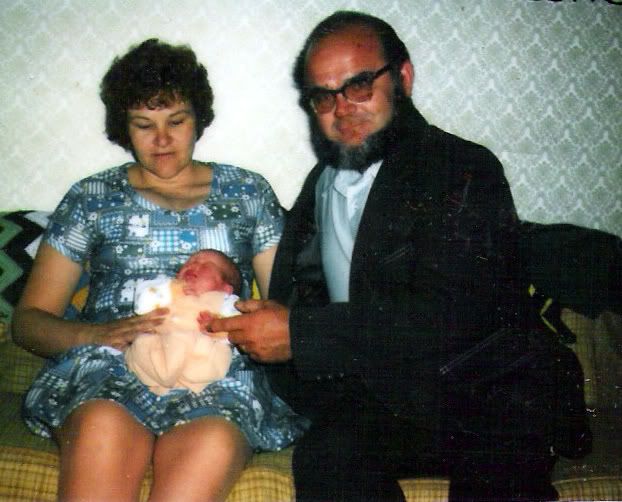 I think my dad may have been in charge of doing my hair that day during Easter. Our relationship was easy... I could tell him anything and he would listen and not judge. We would talk on my drive home from work before he headed into town to have coffee with the boys. Granted he probably only heard half of the conversation due to poor hearing. He tried and that's the part that counted.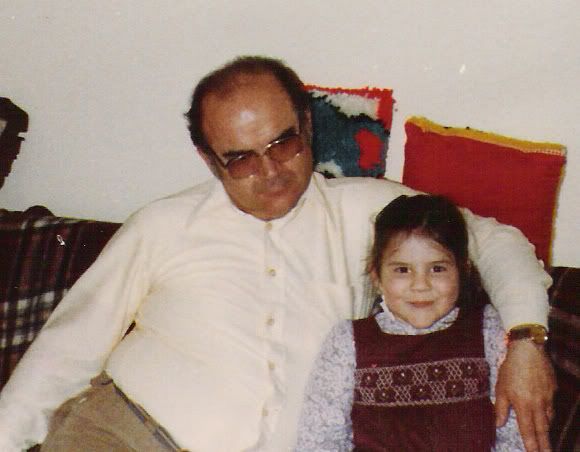 I love this picture of my mom and dad... I have a similar picture of D and I at our wedding, but I think it's probably my favorite of all the pictures I have... it was taken at my sister's wedding. Dad briefly wore a tie that day... I say briefly because I think he wore it for pictures and the service then it was gone.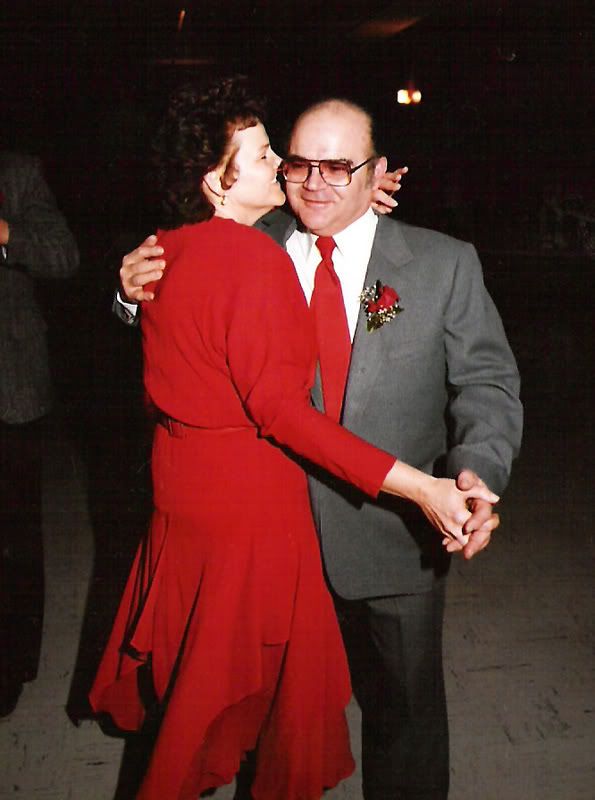 My dad was a wonderful grandfather... and that is probably the thing I wish the most - that a child of mine would have had the chance to meet and love my dad. I know how great he was and my saying that doesn't make it any easier for a child to understand... My nieces and nephews are the lucky ones - they got to enjoy my dad... at a time in his life when it was sunshine and roses and gardens and puppy dogs and cats. I'm jealous of that. I'm jealous that any child or children that D and I may have won't get to experience that. That all they will get is to hear what a great guy he was and that he would have loved them to pieces and brought them back to us filthy and covered in dirt and telling me all about the fun things they did with Grandpa...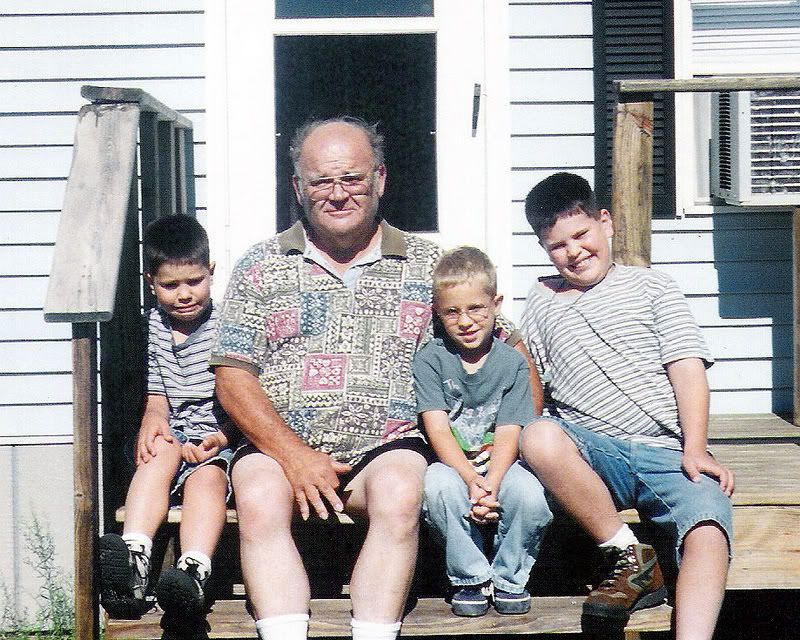 So if you're a member of the club - I'm sorry. If you're not I pray that you will not become a member for a long long time and ask that you call your dad and let him know just how much you love him... That's how we always ended our phone calls to one another... "I love you and will talk with you soon." I think we both knew just how important that was. I hope you do as well.